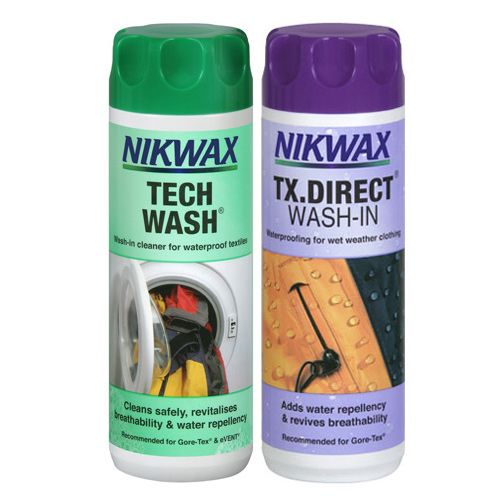 Nikwax Tech Wash and TX Direct 300ml Twin Pack
Brands Nikwax
Availability: In Stock
Twin pack of the Nikwax Tech Wash and TX Direct wash in for added value. 300ml sizes.
Nikwax Tech Wash cleans and revives all outdoor fabrics and is specially formulated to work with Gore-Tex and eVent waterproof membranes. It safely cleans, revives breathability and restores water repellency to waterproof fabrics.
Tech Wash Features:
Flourocarbon free
Not tested on animals
Easy to use, hand wash or machine wash
300ml size
Nikwax TX wash in is a waterbased reproofing liquid for all waterproof outdoor fabrics. It is specially formulated for use on Gore-Tex and eVent waterproof fabrics. It adds repellency and revives the waterproof properties of your garments. Easy to use in your washing machine or hand wash. It is environmentally safe and contains no fluorocarbons.
Wash your garment first in Nikwax Tech wash or equivalent products for best results.
TX Direct Features:
Easy to use in the machine or hand wash
Safe on the environment
Use on all waterproof outdoor fabrics
300ml size